Multiple Ajax filters with smart & voice search
Effortlessly narrow down your search based on your desired criteria, such as price, color, brand, material, and more. Simply specify your preferences, and FindasticTM will instantly display the results you're looking for. Imagine the convenience of finding women's watches with a red color and leather strap, priced between 80 to 120 euros, in just a few clicks. Say goodbye to tedious manual filtering and let FindasticTM do the work for you. Its lightning-fast response time and automatic exclusion of irrelevant filters ensure you find exactly what you're searching for. Experience the future of product discovery with FindasticTM and elevate your shopping journey to new heights.
With 13 years of continuous evolution, FindasticTM has become a true powerhouse in smart and lightning-fast product searches. We have fine-tuned every aspect to ensure optimal performance, search engine compatibility, and unrivaled speed. Even when dealing with databases containing thousands of items, our server delivers results in less than 400ms! Experience the joy of effortless searching as FindasticTM transforms the process into an engaging game-like experience. Say goodbye to long loading times and hello to instant gratification. Don't just take our word for it - witness the power of FindasticTM in action on leading websites such as: www.ofarmakopoiosmou.gr, eshop.mymarket.gr, www.electronet.gr, www.bsbfashion.com, www.lynneshop.com.
Gain a competitive edge with FindasticTM, a powerful solution that sets your website apart. Implementing similar features is a challenge for competitors, making FindasticTM a unique advantage.
Product Technical Features
Multiple Ajax filters
Unlimited filters
Shareable Filtered URLs
Voice Search
Smart Search
synonyms
Greeklish
Misspelling
Approximate search matching based on similarity and variations. (Fuzzy Search)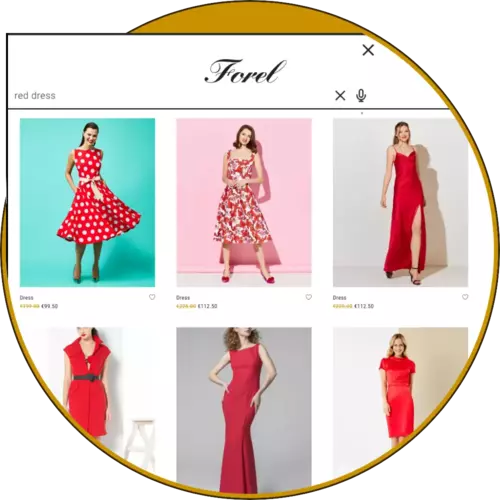 Discover the power of FindasticTM, the ultimate solution that transforms your customers' shopping experience. Increase conversions, boost customer satisfaction, and stay ahead of the competition. With FindasticTM, the future of your online business is within reach. Unlock its potential with our Cloud Tool, starting at just 4.000€ per administrator license.
Ask us. We respond immediately.
We respond to all inquiries in less than 12 hours and most of the time in less than 1 hour!