Specifications set high by the brand
BSB with 42 years of history, 300 retail points (120 self owned), multiple awards and presence in 18 countries is the biggest fashion brand in Greece. This by itself made the project extremely demanding, because the experience created by the brand should be equally created online. The design, the functionality and the usability should be flawless, whether the visitor is on desktop, mobile or tablet.
Technology was a must
In this project we used all Netstudio technologies (filters and smart search FindasticTM, Store Locator for ease of search of stores on map, Netstudio Promotion for easy promotions creation, advanced checkout for easy order placement, interconnection with ERP in multiple levels, interconnection with the courier company etc.), and many more which were developed specifically for this project, like multiple pricelists per country, advanced administration workflows, so that admins can setup impressive landing pages etc.
On top of the technologies used, however, we had to develop different ways of presenting the brand's products, in order to give to the customers the same high-quality service and excellent experience they have been used to receive.
Photo is the King
For proper clothing detail viewing multiple shots on hyper high resolution was used. The website was designed so that it goes from side to side using any available pixel. On top of that, the user has the option to see 3 big images per row or 6 for a denser view.
Grid Look
Grid Look is a different approach to clothing and accessories presentation, where photos are again the big hero. With no unnecessary info, the user can enjoy the BSB design by simply scrolling down.
Look Book & Editorial
Look Book and Editorial are the sections where complete looks and ideas on how the user can improve her look are presented. Previous seasons are available as well.
Responsive Design
Ease of use was a big element of the design process. Everything works seamlessly on any screen size.
A brand not only connected, but also synonym for fashion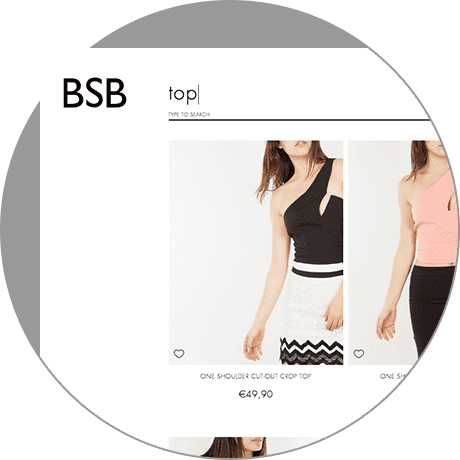 One of the biggest improvements we added to FindasticTM is the ability to bring results even when searches are done in wrong spelling, greeklish or even with synonyms. E.g. try searching for white dresses or even white dreses and see how in any case results are right.
Stock Notification
Finally, it is important to mention the stock notification mechanism, where if a product or size is not availabe, the user can enter her email and get notified when the product is back in stock.
See more casestudies
Ask us. We respond immediately.
We respond to all inquiries in less than 12 hours and most of the time in less than 1 hour!