Tailor made design just for Lynne
Lynne is a brand not just connected but almost synonymous with femininity and dynamism. They are inspired by the idea of developing garments that drive other people up and sparkle their own lives.
Challenging requirements
With Lynne marking its presence both in Greece and abroad, the development of price lists per country of origin of the visitor, the viewing of the extensive distribution network, interconnections with the company's internal systems and multilingualism were some of the basic requirements that had to be met.
Responsive Design
Of course, the design must be automatically adapted to all the devices screens - computers, tablets, mobile phones. This allows the visitor to fully appreciate the visual elements displayed virtually on any of his preferred device screens leaving him with a positive initial impression.
Challenging specifications, signature design, multiple target groups.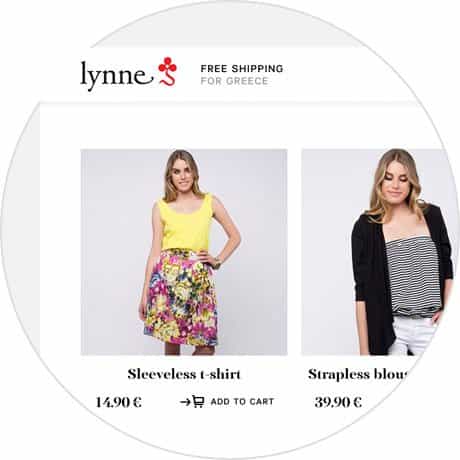 Of course, when it comes to the production, of a website like Lynne's, our favourite advanced tool, FindasticTM, could not be missing. The extremely fast search filters utilized with the use of FindasticTM makes searching for products a satisfying process. Plus, with the use of the "instant search" results pop up faster than the actual typing of the words!
Smart pricelists per country
Different prices per country? No problem. The site automatically recognizes the origin of each visitor and shows him the prices that correspond to his country! Multiple price lists are automatically driven by the ERP, so their management is still on the hands of the company.
Extremely flexible promotions
Lynne has incorporated the latest version of "Netstudio Promotions", the system that makes the process of releasing new offers super easy! Ask us to see a demo of the innovative mechanism that allows you to create unlimited types of offers with just a few clicks!
See more casestudies
Ask us. We respond immediately.
We respond to all inquiries in less than 12 hours and most of the time in less than 1 hour!